PerfectPrime
Regular price
₩356,000
Sale price
₩172,000
Unit price
per
Sale
Sold out
Thermal Imaging Camera with Video recording and Radiometric Metric Data

In our aim to become the leader in cost-effective low thermal resolution cameras we developed the IR0280 thermal camera, based on customer feedback and market demand.

Thermal camera operators require a reliable tool with functions that make their jobs easier. The IR0280 features an impressive 3.2 in touchscreen displaying wide angle images and allows for spot checks during and after inspections.

Video record the thermal imagery or visible light to give your report greater detail to clients so that they have a clear picture of what needs to be fixed and all of this is based on the android operating system which enables the user to update the firmware when it released rather than having the unit sent back.

With more features than the next thermal camera at the same price point, the IR0280 is not only a bargain but a clear winner for professionals and businesses.


Features

Thermal Resolution: 32 x 32, 1024 pixels, Camera and Video Recording, 9Hz Refresh Rate
Touch screen: Real-time temperature information from any pixel on the screen
Thermal Sensitivity: 0.15°C, Temperature Range: -22 to 1832 °F (-30 to 1000 °C) , Temperature Accuracy:+/- 2 % or +/- 2 °C
Thermal Radiometry data included for full report analyses, CSV format, compatible with thermal software
Based on the Android platform: Update firmware conveniently at home and experience smoother operations all around

60 Days Money-Back Guarantee

To make sure our customers are satisfied with our products, we are happy to offer a 60 days Money-Back Guarantee. If for any reason you are not completely satisfied, return the product for a full refund.

Just drop us an email at cs@perfectprime.com for more details about our 60 Days Money-Back Guarantee.

Looking to purchase in bulk? We offer bulk purchase discounts for most products on orders with a minimum of 10 units. The higher the volume, the bigger the discount.

Contact us for more details here: 

Business Contact Form

.
Share
View full details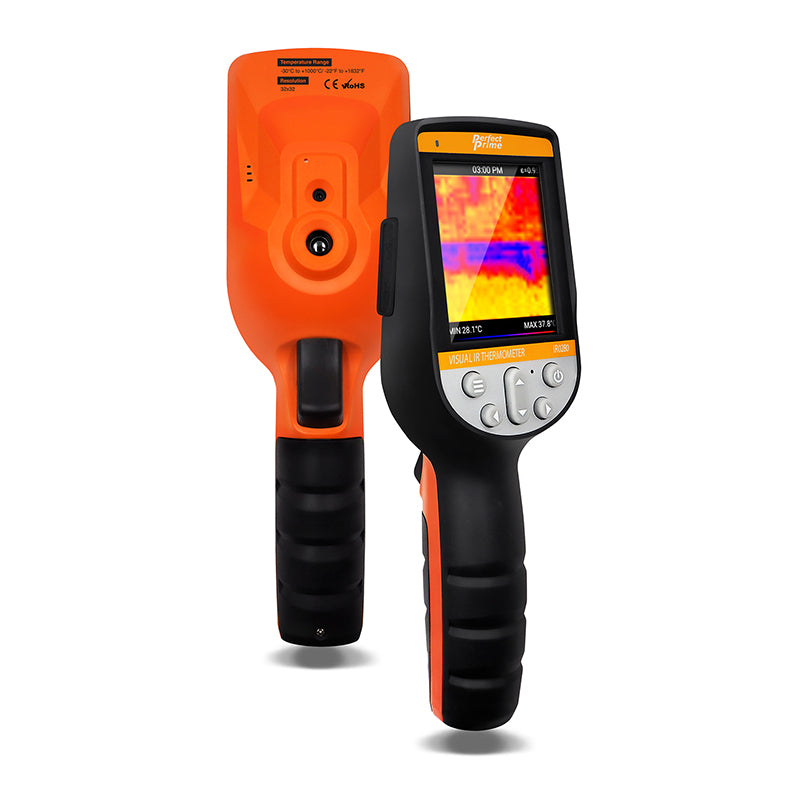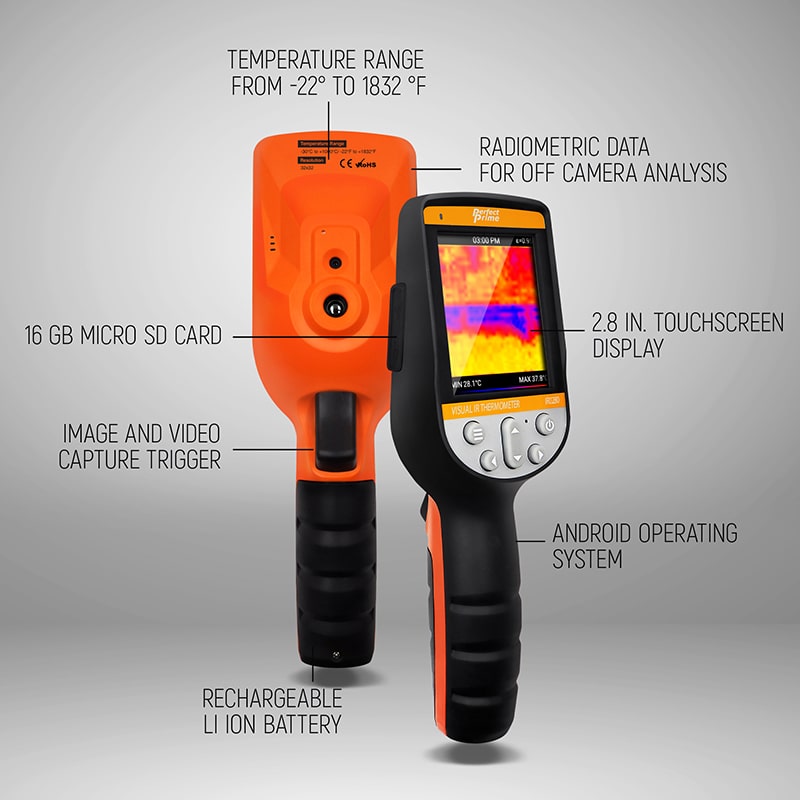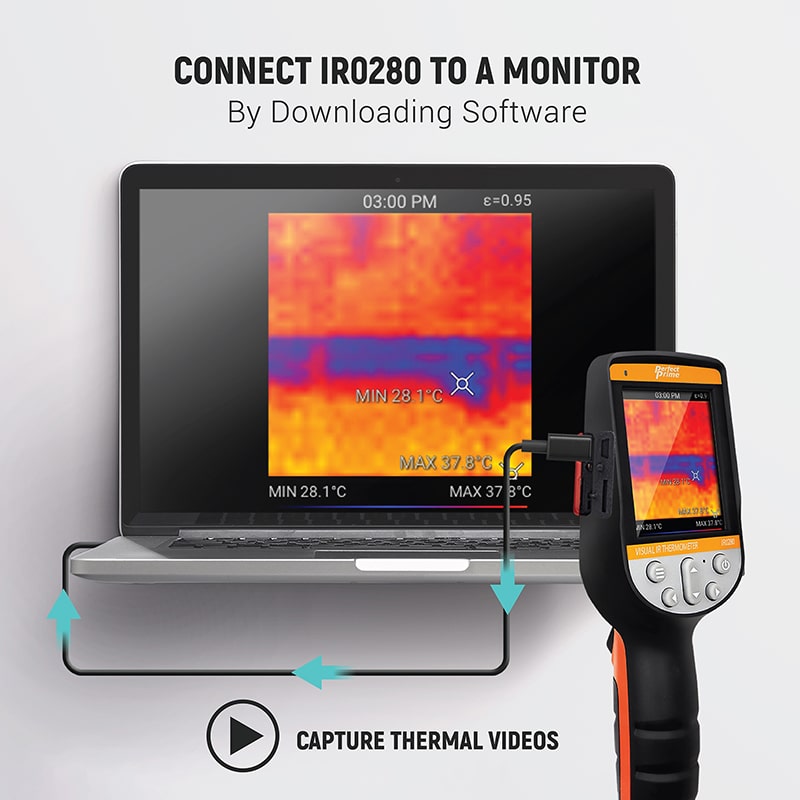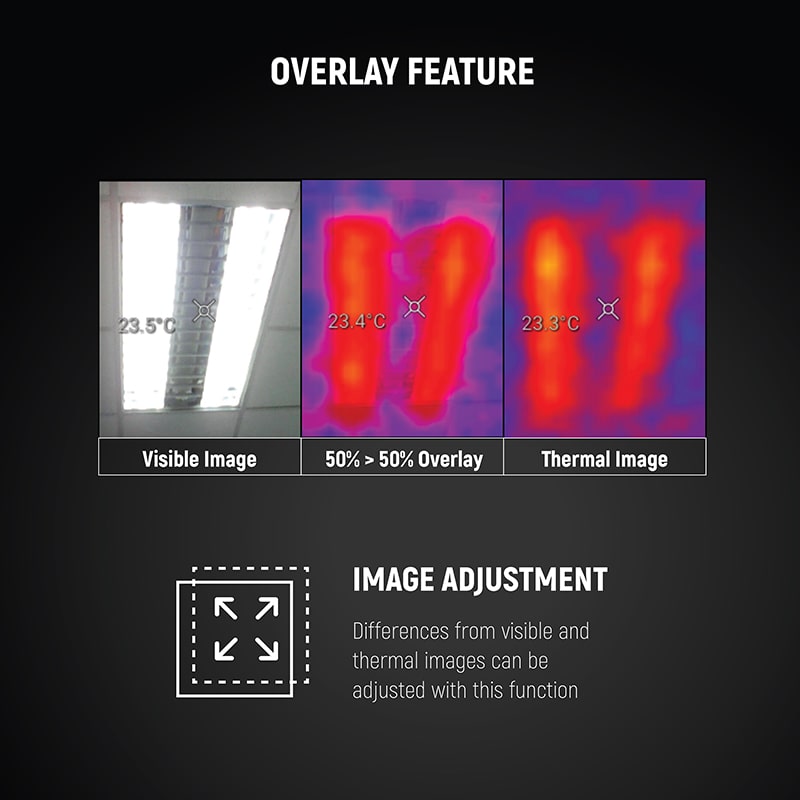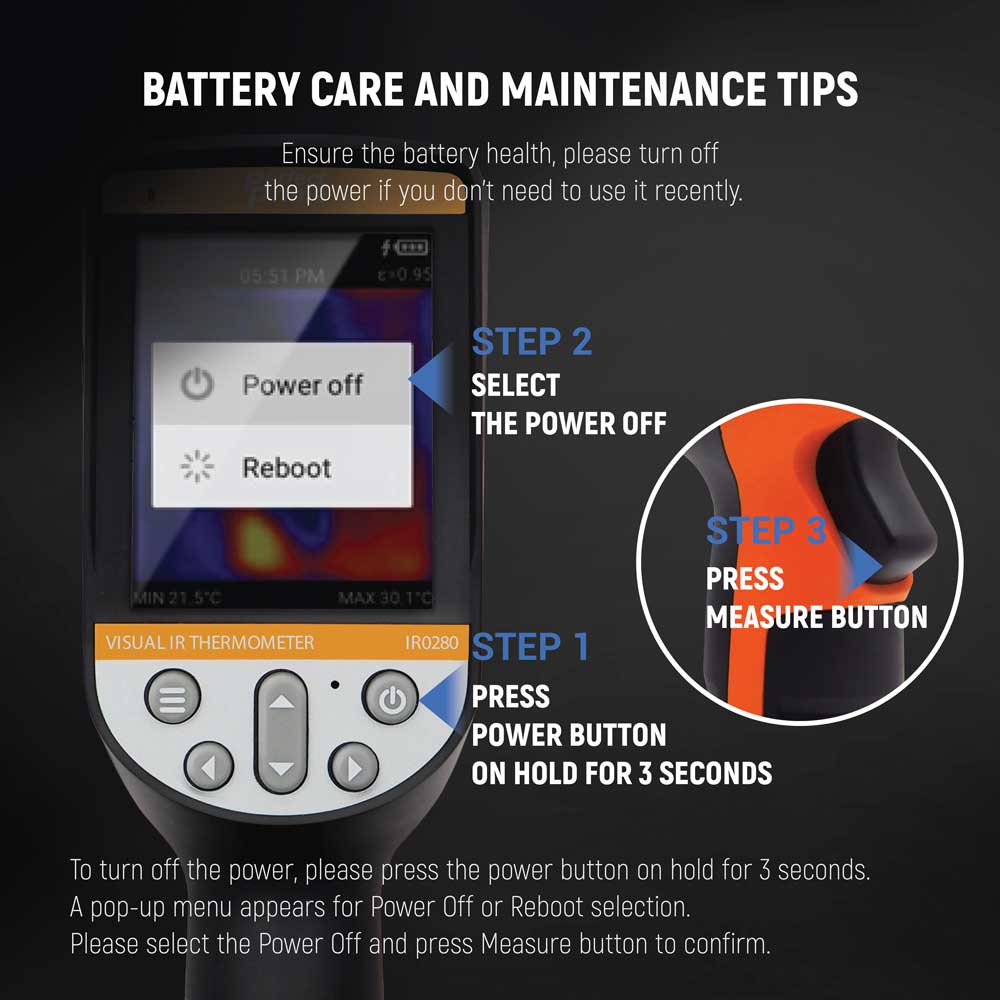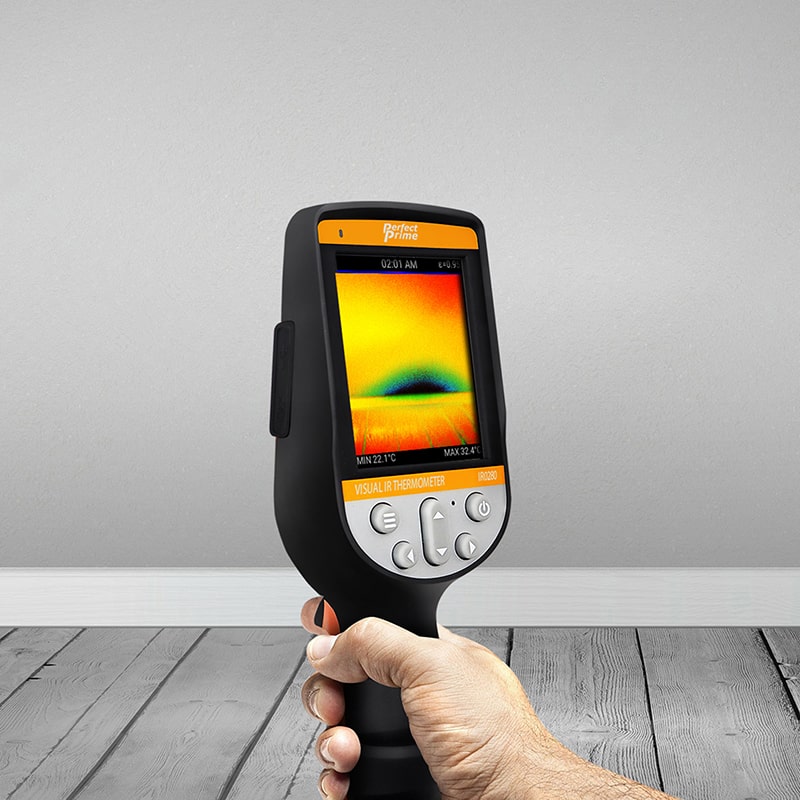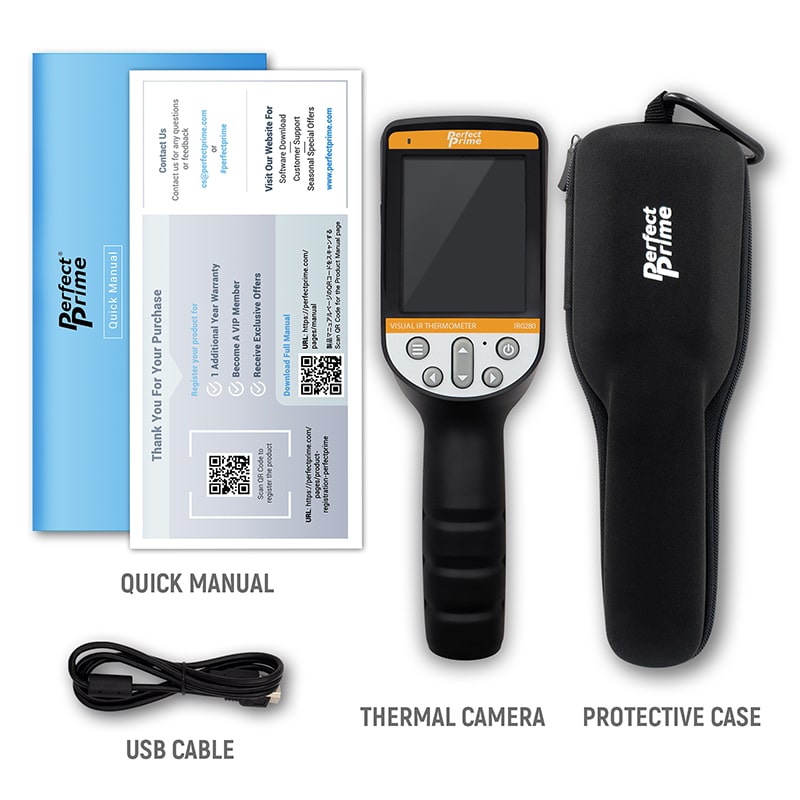 Commercial & Residential Building Inspection
UNIQUE FUNCTIONS
Thermal Radiometry data included for full report analyses, CSV format, compatible with thermal software
ANDROID OPERATING SYSTEM
Update firmware conveniently at home via WiFi connectivity and enjoy additional functions when released
HIGH TEMPERATURE RANGE
Temperature range of up to 1832°F (1000°C) meeting the needs for most high temperature applications.
Easy User Friendly Control

Large buttons with simple navigations based on android system with large icons and structure
Video Recording
Take videos on site and create more detailed reports for clients and management.
Touchscreen Display

Change the tracking location or navigate through the system controls via the screen for more immersive experience.
Radiometric Data
Get full information with each image taken and analyse the temperature of each pixel, enabling higher quality inspections.
Resolution of Infrared Image
Resolution of Visible Image

Field Angle / Shortest Focal Distance
Thermal Sensitivity
Range of Temperature Measurement
Measure accuracy


Power Supply
Panel
Touch Panel

Internal Memory

External Memory (Micro SD Slot)

Battery life

Operating temperature

Storage temperature

Dimensions / Weight

Image capturing frequency

Range of wave length

Focal distance

Image/Video format

32 x 32 (1,024) pixels
0.2 megapixels
33° x 33° / 0.1m
0.15°C

-22°F ~ 1832°F (-30°C ~ 1000°C)

-22~572°F ± 1% or ±33.8°F (-30~ 300°C ±1% or ±1°C)
572~1832°F ± 2% or ±25.6°F (300~1000°C ±2% or ±2°C)

3.7V Li-ion rechargeable battery, 2500mAh, Size 18650

2.8" color LCD display
Resistive type Touch Panel
1GB memory
16GB SD card included
6hrs
-10°C ~ +50°C (14°F ~ 122°F)

-20°C ~ +60°C (-4°F ~ 140°F)
215 x 55 x 62 mm / 30g
9Hz
8-11.5µm
Fixed
BMP, JPG / MP4
Resolution of Infrared Image

Resolution of Visible Image

Field Angle / Shortest Focal Distance
Thermal Sensitivity
Range of Temperature Measurement
Measure accuracy






Power Supply



Panel

Touch Panel


Internal Memory

External Memory (Micro SD Slot)

Battery life

Operating temperature

Storage temperature


Dimensions / Weight


Image capturing frequency

Range of wave length

Focal distance

Image/Video format

32 x 32 (1,024) pixels


0.2 megapixels


33° x 33° / 0.1m


0.15°C

-22°F ~ 1832°F (-30°C ~ 1000°C)


-22~572°F ± 1% or ±33.8°F (-30~ 300°C ±1% or ±1°C)
572~1832°F ± 2% or ±25.6°F (300~1000°C ±2% or ±2°C)

3.7V Li-ion rechargeable battery, 2500mAh, Size 18650
2.8" color LCD display
Resistive type Touch Panel
1GB memory
16GB SD card included
6hrs
-10°C ~ +50°C
(14°F ~ 122°F)
-20°C ~ +60°C
(-4°F ~ 140°F)
215 x 55 x 62 mm / 30g

9Hz


8-11.5µm


Fixed
BMP, JPG / MP4

Sensors

Temperature Range
Accuracy
-10°C to 100°C (14°F to 212°F)
100°C to 330°C (212°F to 626°F)
Frame Rate
Wavelength
Field Of View, Horizontal
Field Of View, Vertical

Minimum Focus
Power Supply


Panel

Internal Memory
USB connection

Battery life
Internal Memory

Auto Power-off time

Temperature Alert

Battery life

Image & Video Recording

Operating temperature

Storage temperature

Cast screen to Android TV

206 x 156 Module, 0.2 megapixels
-22°F~1832°F (-30°C ~ 1000°C)


±2.5°C (Typical), ±5°C (Max)
±2.5% (Typical), ±5% (Max)

9Hz

7.8um ~ 14um

35.4°
26.8°
0.5m
3.7V Li-ion rechargeable battery,
2500mAh, Size 18650
2.8" color LCD display
16GB memory
Photo upload to PC, and USB charging battery
2.5 hrs
1GB memory
Adjustable, from 30sec to Never
High or Low Temperature Alert
2.5 hrs

BMP/JPG (Image), MP4 (Video)
14°F ~ 122°F (-10°C ~ +50°C)
-4°F ~ 140°F (-20°C ~ +60°C)
Available
Media Gallery
Thermal images taken by IR0280